The Amazing Days of Abby Hayes- Every Cloud Has a Silver Lining
Written by Anne Mazer
Reviewed by Sandy M. (age 9)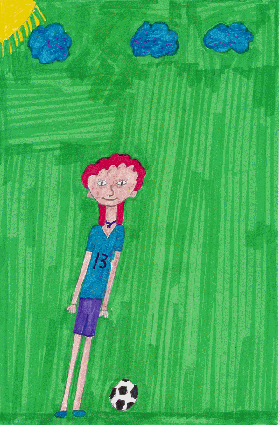 This book is about a girl who thinks she does not fit in with her family. Her name is Abby Hayes. Abby wants to be a soccer star, but she does not have confidence in herself. Will Abby really beome a soccer star? Read the book to find out.
I liked how the author had Abby write in her journal with her purple pen. Abby's favorite color is purple. I also liked how Abby drew the purple people she was writing about with her purple pen.
When I read the first couple of chapters I got really excited to see if Abby was going to be a soccer star. I really wanted her to be a soccer star.
I liked Jessica because she was nice to Abby. Jessica is Abby's bestfriend. She was nice to everyone when she was soccer captain for the soccer team.
I recommend this book because it is exciting. It's exciting because of the end. Abby finally realizes she fits in her family. I recommend this book to anyone who is in third grade or over. I think they will like it, especially if they like soccer.