Out of the Dark
Written by Betty Ren Wright
Reviewed by Tarah-Lynn S. (age 9)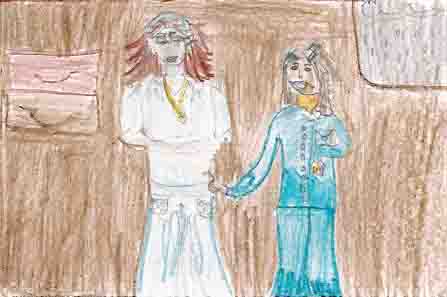 In the beginning of this book, Jessica moves into her grandmother?s home. Jessica dreams of a blue ghost and an old schoolhouse in the dark woods. Then she meets a girl named Toni Draves and becomes her friend. Jessica goes on a bike ride with Toni into the dark woods and finds the schoolhouse and the ghost from her dreams. In the end, Jessica couldn?t find Toni so she walks into the old schoolhouse. She finds Toni in the attic. The ghost shuts Toni and Jessica in a sharp needle box. Read this book and find out if the blue ghost lets Jessica and Toni out of the box.
My favorite part was when Jessica went into the old schoolhouse because it was interesting. When she found the ghost?s blue ribbon, it was creepy. It was very eerie, dark and it was raining at that time. It was spooky when the ghost trapped Jessica and Toni in the sharp needle box. I loved the ghost in this story because she was mean. She was mean because when she was a little girl, she was in Toni ?s grandmother?s class. The ghost wanted to go to a college but she didn?t get to go. Because Jessica's grandmother went to the college, she was very angry and she died that way.
I recommend this book to people who like spooky books because it was scary and eerie. I really liked this book because of the ghost in this story. I also recommend this book to people that love ghosts and who like to read ghost stories.