Hank the Cowdog: Faded Love
Written by John R. Erickson
Illustrated by Gerald L. Holmes
Reviewed by Aaron A. (age 9)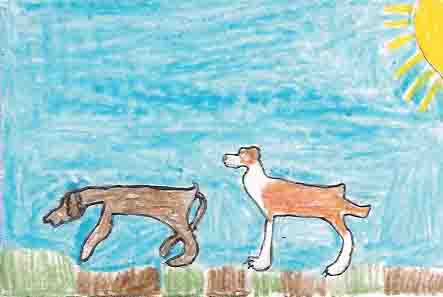 If you like funny and exciting books, I think you would like this book. It?s about a dog named Hank and his friend Drover. They are looking for true love. Hank and Drover meet two female dogs. The first dog they meet is Miss Scamper. Drover falls in love with her, but she does not love Drover. Then they meet Miss Beulah. Hank falls in love with her. Hank and Drover go back home and Hank fights a rattlesnake. Read this book to find out if Hank ever finds true love.
I enjoyed reading this book because of my favorite character Hank. The book was also funny because of Drover. What also made me enjoy this book was reading about the big ranch. There are a lot of interesting things on it. They slept under gas tanks and the ranch had a little lake, cattle, and open fields. My favorite part was when the giant rattle snake came. I liked that Hank fought it. I also liked when he got bit by the rattlesnake. He thought he was going to die, but he didn?t. I enjoyed that part because it was exciting. My favorite character is Hank. I like him because he is funny and smart. He uses perfume, that is made from dead skunk, as a love potion. When I read that I laughed. He used a lot of big words that many dogs don?t know like coordinates.
I recommend this book to people who like to laugh. I also think if you like books where you don?t know what's going to happen next, you should read this book. I also recommend this book to people who like when dogs fall in love.