The Secret of the Indian
Written by Lynne Reid
Illustrated by James Watling
Reviewed by Justin D. (age 9)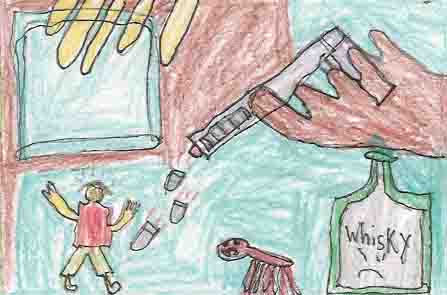 Omri, the main character, had a plastic toy Indian that he brought to life. The Indian was about five inches tall and Omri tried to keep him a secret. Omri?s friend Patrick saw the Indian and wanted a cowboy so they started fighting. Also, a girl named Emma wanted a cowgirl when she saw the cowboy and the Indian. Patrick went to the cowboy world. He became five inches tall and the bartender was trying to kill him. If you want to know more about what is going to happen, read the book.
I enjoyed the illustrations because they were funny. The characters looked weird in the pictures. It was surprising to see a picture of a shooting match against Patrick and it was scary to see the teacher looking at the live plastic Indian. I enjoyed this book because it had cliffhangers. They made me want to read more of the book. It was funny when Patrick and Omri start fighting. There were surprises in the book and you didn't always know what would happen. I liked how Omri worried that people might see the Indian. He was really scared that his teacher might see the Indian. He was also calm because he didn?t yell at Patrick for showing the Indian to the teacher. Finally, I liked Omri because he was the only one to have a magic cupboard.
I would recommend this book to people who like to keep and give away secrets because it will surprise you all the way to the end of the book. I would also recommend this book to people who are adventurous. You would want to read this book and see what it is like to be very small.