The Mystery Mess
Written by Billy Aronson
Illustrated by Shari Warren
Reviewed by Daniel O (age 8)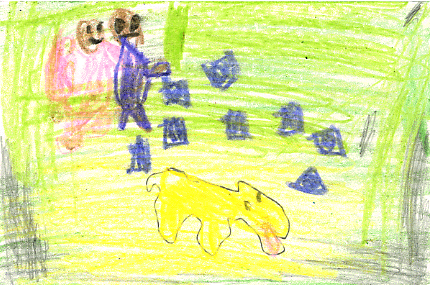 The boy in the story is named Carlos. He is at his Aunt Sara's home for the weekend. Carlos cleans up his mess before bed and it's messy again in the morning. Carlos think Raphael the cat is making the mess, but he can't prove it. The phone rings and Carlos gets an idea. He answers the phone and decides to go to the pet shop to buy all kinds of cool stuff for the cat. That night before bed Carlos tries the new collar on Raphael. It has bells on it and is very noisy. Early in the morning Carlos wakes up to the sound of bells. He looks everywhere and can't find the cat. He finally tiptoes into the living room and Aunt Sara and Carlos catch Raphael. He jumps up and hits Carlos toy of building blocks. What a mess.
It's a really funny story because the cat hits the buidling that Carlos had made. It is cool because my room sometimes gets messy but I don't have a cat who made the mess. My favorite part is when Carlos figures out who is making the mess.
I do recommend this book because it is funny and will make you laugh when you see the funny mess Raphael makes. I think anybody can read the story and enjoy the Mystery Mess if you like reading a good mystery. The plot is really good and could happen in real life.