Julius, The Baby of the World
Written by Kevin Henkes
Illustrated by Kevin Henkes
Reviewed by A'Shey V. (age 9)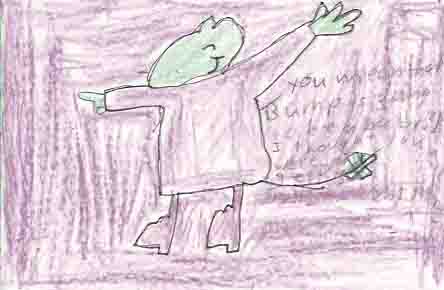 Julius wasn?t born yet! Lilly sang him lullabies. Then Julius was born. Lilly had to share her room with Julius. Lilly's mom said that Julius is isn?t leaving, he's staying. Lilly hated Julius. Garland, Lilly's cousin, came to her house. Garland hated Julius, too. Lilly said, "Now repeat after me, Julius is the baby of the world." Finally... Lilly loved Julius.
I felt happy about this book because it reminded me of when my brother Chad was a baby. Lilly is an interesting character because she is just like me when I was younger. She sticks up for her brother, Julius. The book reminds me of my brother Chad and me. Garland hated Julius. He reminds me of my cousin Corey because he is mean like Garland. Lilly told Garland to say, "Julius is the baby of the world? because she wanted Garland to stop being mean to her brother.
I recommend this book to people who have a baby brother or a new baby. The author tells about Julius and Lilly?s relationship. They don?t really get along. You can learn a lot about how important relationships are between brothers and sisters.