Strega Nona
Written by Tomie dePaola
Illustrated by Tomie dePaola
Reviewed by James E. (age 9)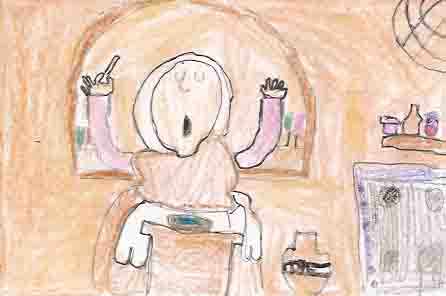 There was an old lady and the townspeople called her Strega Nona. She helped people, but never had time to do all of her chores. She hired a boy named Big Anthony to do all of her chores. Strega Nona told Big Anthony not to touch the pasta pot, but he did not listen. He heard all of the words that Strega Nona said to make the pot keep on cooking pasta. Last, Big Anthony had to eat a lot of pasta from the pasta pot.
I really enjoyed reading this book. It?s really funny because of the character Big Anthony. Strega Nona gives Big Anthony a responsibility that he could not handle. I also liked the illustrations. The book has colorful pictures. The pictures actually show what?s happening in the story. What I really like is the scenery in the pictures. Strega Nona was the most important person in the whole book. She was really smart and she could make cures for people. She was an old lady that lived in an old house. She?s really hard working because she really has to think hard.
I recommend this book to people who like funny books because it will probably make them laugh. It will make them laugh because one of the characters does something really funny. This book has won the Caldecott Honor Book award.