Judy Moody Saves the World!
Written by Megan McDonald
Reviewed by RC (age 11)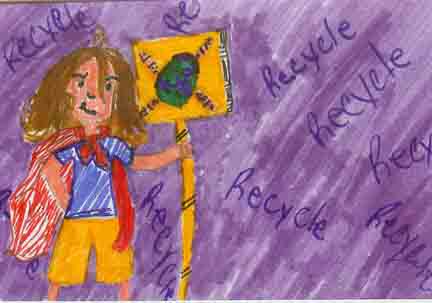 The book I read was Judy Moody Saves the World! Judy Moody saw a contest on the back of a bandaid box. The contest was to design your own bandaid called Crazy Strip. The first prize winner gets rollerblades and your picture on a bandaid box for a year. In class, Judy's teacher is talking about the rainforest. Judy learns that the bandaid box uses a lot of paper from the trees. Just before a math test, Judy steals everyone's pencils because she thinks that will help save the trees. Judy wants everyone to use pens instead.
Judy Moody is my favorite character. She has great expressions and a great attitude although she doesn't like to brush her hair. I think that the book is very funny especially when Judy climbs a tree. Judy climbed the tree to get away from her mother when she sent her to her room as a punishment. My favorite part is when Judy takes everyone's pencil at recess. When they return to start a math test, Judy is the only one completing it because she is using a pen.
I recommend this book to readers who like surprises. There are two surprises in the middle and one at the end of the book. This story contains a lot of action. I also would recommend this book to anyone who would like to be a teacher because the teacher is a main character in this story.