Treasure Planet
Written by Dan Cooper
Illustrated by Judie Clarke
Reviewed by Rome T (age 8)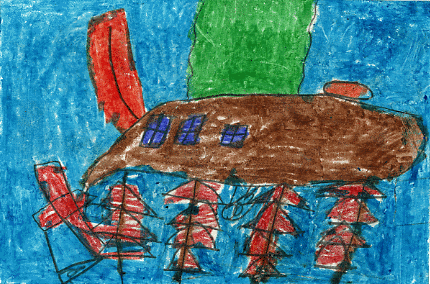 This story is about pirates and treasure. A boy named Jim Hawkins was lost at sea and rescued by pirates. Jim makes a few friends name John Silver a cyborg, and Morph. Morph is a pink play-dough looking creature. He can change into almost anything.
Jimbo and Silver decide to look for the treasure of Captain Flint. They knew it was somewhere in the galaxy. Silver knew Jim had the map to treasure planet. This map eventually leads them to the treasure which is booby trapped. Before the explosion Silver has to make a decision whether to save the treasure or Jim. Silver saves Jim and realizes friendship means more than any treasure.
It's a cool story because it has a cyborg who is half man and half machine and Morph. If you like adventure and pirates you will really like this story. My favorite part is when Silver saved Jim instead of the treasure because he didn't even know the treasure was on the boat at first but even when he did he still saved Jim.
I recommend this book to anyone who likes to read about pirates and treasure. I think that everyone who likes a good adventure story will want to read this book. I think the characters add to the story because they are very creative and fearless.