The Princess and the Kiss
Written by Jennie Bishop
Illustrated by Jennie Bishop
Reviewed by Mary Catherine L (age 7)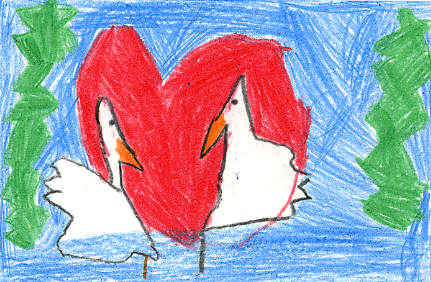 The story is about a Princess who is given a kiss when she is born. The kiss is a gift from God. The kiss is placed in a secret room in the castle while the princess is growing up. She is told to save the kiss for the man she will marry. Prince Peacock, Prince Romance, and Prince Treasure chest all want to marry the princess. The princess talks to her mom and decides to wait. Soon a farmer comes to visit. He also has a kiss given to him from God when he was born. He gives his kiss to the princess. They marry and some time later on the day of their first child's birth God gives them a kiss to save for their child.
I like it because the story is about a gift from God. My favorite part is the picture when they show two swans in love. I used this picture for my illustration because it is my favorite but the big heart is pink and I made it red. I hope someday I can be like the princess and look for real love not just settle for a Prince Peacock, Prince Romance or a Prince Treasure chest.
I do recommend this story because it is about a gift from God. It is really cool because they show the kiss as a gold light. I think girls will like this book because it is about a kiss and boys don't like to be kissed. I think the characters are shown to be kind and loving especially the princess and the farmer she marries.