The Little Kitten
Written by Judy Dunn
Illustrated by Phoebe Dunn
Reviewed by Leah C (age 7)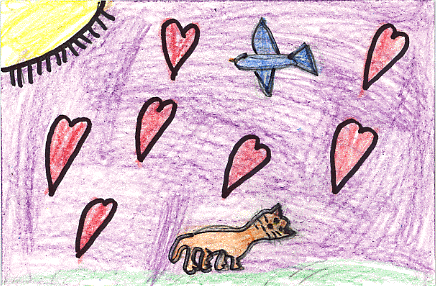 One day Jenny's cat had six kittens. Jenny could only keep one. She picked the curious one. She named him Pickle. Jenny took Pickle outside and he wandered off. The kitten is very curious and that's why Jenny named him Pickle because he was always getting into trouble. In the end Jenny finally ties a pink balloon to Pickle's collar so she can find him whenever he gets into a pickle.
I like the pictures because they are real photographs. When I read the story I felt like I could be Jenny. If my cat got into a pickle I think I would tie a balloon around his collar too so he won't get lost. I think my favorite part is when Jenny thinks of putting the balloon on Pickles.
I recommend this book because it is cool and the kitten goes on some fun adventures. I think any girl who likes cats would enjoy this book. The most interesting thing was the adventure that made Jenny decide to use the balloon on the collar. The characters in the story are real life and that makes the story even better, because it could really happen.