Poison Dart Frogs
Written by Jennifer Owings Dewey
Illustrated by Jennifer Owings Dewey
Reviewed by Carlos B (age 8)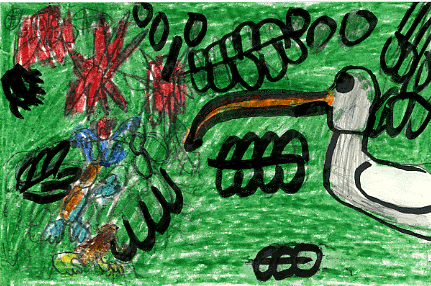 This book teaches about poison dart frogs. I learned how Indians hunted the frogs for their poison. They would then dip their darts in the poison and use it to hunt. Getting poison doesn't kill the frogs either. I did not know that frogs had any defenses. Their egges are not poisonous. But watch out, because the frogs are poisonous to touch. These frogs live in the rain forest. They can hop, crawl, and climb. The deadliest one is the golden frog which is bright yellow. Mother frogs lay the eggs and daddy frogs watch over them much like penguins do.
I like this book because even though frogs are small they are great to learn about. The illustrations are real pictures and I like that so I can see what they really look like. My favorite part is learning how hunters find them and why since they are so small.
I recommend this book to anyone who likes to learn about nature. I think even adults would like this book. It even makes you feel like you are in a rain forest. The setting is very real and beautiful and adds to the fun of reading the book.