Parts
Written by Tedd Arnold
Illustrated by Tedd Arnold
Reviewed by Luis B (age 7)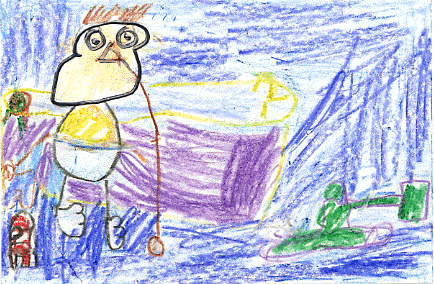 This story is about a little boy who thinks his body is falling apart. Some of his hair got caught in the comb and he thought he was going bald. He had a loose tooth and thought all his teeth were going to fall out. He was going to take a bath and something fell from his nose and he thought his brain was falling out his nose. The little boy is scared and worried because the glue that holds his parts together is falling out all over the place. He gets masking tape and puts it all over his body. His parents remove the tape and tell him everything is alright. In the end he puts his finger in his ear and wonders what's this stuff.
I like the pictures because they are funny. It makes you giggle when you see all these things falling off his body. The illustrations of the boy show him having a really big head and body. Some people might like Parts because this little boy could be like any little boy or girl who thinks things like losing a tooth or fuzz in your belly button might be a problem. I never worried about these things but some people might.
I do recommend this book because it is so funny to look at and read. I think everyone big or small would like to read about all the parts of the body and what happens to them. I think it's good the author chose a little boy and showed he was scared and his mommy and daddy helped him understand that is was all normal. Some people especially parents may like Parts because it could help them explain things to their kids, like it's okay to lose a tooth.