One Present from Flekman's
Written by Alan Arkin
Illustrated by Richard Egielski
Reviewed by Trista D (age 7)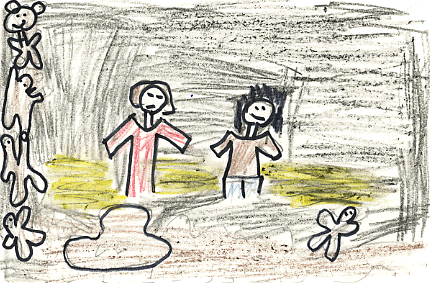 In the story there is a girl named Molly. She goes to a big toy store with her grandpa. She wants to buy lot of things in the store, but she had an agreement with her grandpa. She told him she could get one thing, but Molly forgot her agreement. She started screaming and yelling because she wanted all the things that she saw. She got sick and was running and hiding. Her grandpa was starving by now and everybody was looking at him because his stomach was making weird noises. He called the delicatessen. Molly finally got tired and starts to play with a towel they had given her to wipe her face with. She makes it into all kinds of shapes and things. She and grandpa finally leave to go home and the towel is the thing Molly chose from Flekmans Toy store.
I think you should read this book because it may help you make decisions. I like the book and I learned an important lesson. You shouldn't be greedy and be happy with what you can have even it it's only one thing. I think Molly changed in the story and learned to be nicer, not so mean especially to grandpa, and not to be greedy.
I think you would like it if you just read it because this book teaches a good lesson. I think this book would be good for kids in any grade because everyone likes a good story especially when it's funny. I also like the characters in the story even though the pictures are cartoons this could happen to a real person.