Just the Way You Are
Written by Marcus Pfister
Illustrated by Marcus Pfister
Reviewed by Erica C (age 7)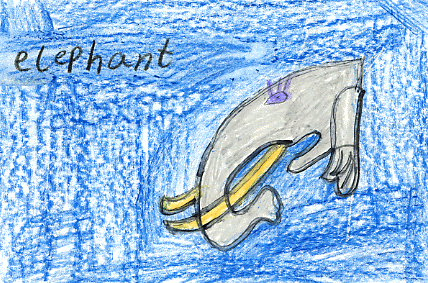 The story begins with all the animals talking about going to a party and admiring each other and wanting to look like them too. The Lion got to look like the Toucan with a shiny beak and wings. The Hedgehog wanted to be like the Chameleon with all different colors. Toucan wanted to be like Elephant and even had a long trunk. Chameleon wanted to be like the stork with a beak and extra long legs. Elephant wanted to be like Kangaroo with a pouch and even wanted to hop. Stork wanted to be like lion with a beautiful mane. Throughout the whole story they kept imagining what it would be like to be these strange animals, part of who they really are and part who they wanted to be. They all went to the party. They all told each other what they had imagined and realized they were really proud of who they already were.
I like this book because the pictures show each animal wanting to be a different animal. Can you imagine an elephant with a pouch who hops everywhere. I like the way the characters kept changing their looks even though it was just for pretend. I really like the way you see the animal the way it really is and the imaginary parts are then added to the picture too.
I do recommend this book because it is a great story with pictures that will make you laugh. I think first graders should read this book because it teaches you about friendship. The characters make the story and shows what a good imagination can create.