Junie B. Jones and the Mushy Gushy Valentine
Written by Barbara Park
Illustrated by Denise Brunkus
Reviewed by Emma G (age 7)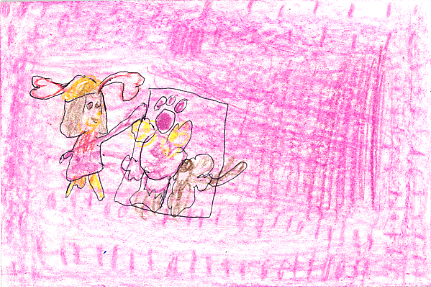 In the story Junie B. Jones has her first crush. The story begins in school and Mrs., that's what they call the teacher is getting ready for Valentines day. They decide to decorate a BIG box for all the class valentines. But when all the valentines are passed out Junie only has sixteen and one is missing. Mrs. looks in the box and finds the missing card, but is isn't signed. It's mushy gushy and Junie knows it's from a secret admirer. She then has a wink wink plan to figure out who the card is from. The plan doesn't work but Junie figures out the card is from Meanie Jim. They decide to keep it a secret and no one else finds out who sent the mushy gushy valentine.
It is sad at first when Junie only has sixteen cards but the Mrs. finds the missing card. It think it would be fun to have a secret admirer. I have all the Junie B. Jones books and I like reading all her adventures.
I recommend this book to anyone who likes to read because it is a funny story. I think girls would especially enjoy reading the Junie B. Jones books because they are about things that can really happen to girls. One thing that's really interesting is the plot of the story because you don't know who the secret admirer is until the end of the story.