Fluffy's Happy Halloween
Written by Kate McMullan
Illustrated by Mavis Smith
Reviewed by David S (age 8)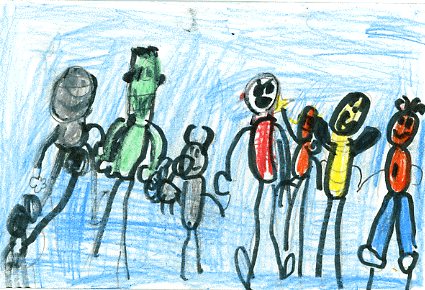 The story is aboutr a Halloween party in Ms. Day's class. The children can't decide what they want to dress Fluffy the class pet gerbil for the Halloween party. They come up with some funny ideas. They dressed Fluffy as a pirate, a mummy, an alien space pig, and even a baby. They still didn't like any of the ideas. Then Fluffy wants to be a Vampire and that ends the first chapter. Next, came the pumpkins of doom in the spook house and the kids were really scared of it. The spook house is in Mr. Lee's classroom. When they enter the room it is dark. Wade and Fluffy go in and Fluffy is scared by a boy dressed as a ghost. Fluffy gets back at him in a funny way. The last chapter is about Monster eye balls which are really grapes. Fluffy doesn't like them and then realized they were okay to eat.
I like the story because it is about Halloween, my favorite holiday. I also like the cool costumes and Fluffy being a Vampire for Halloween. I especially like the end of the story when all the kids want to go back to the spook house.
I recommend this book to anyone who likes Halloween and scary things. This book would be good for any age and could even be read at a Halloween party. I think you would find the characters interesting because they could be real except Fluffy the talking gerbil.