The Reptile Room
Written by Lemony Snicket
Illustrated by Brett Helquist
Reviewed by NR (age 9)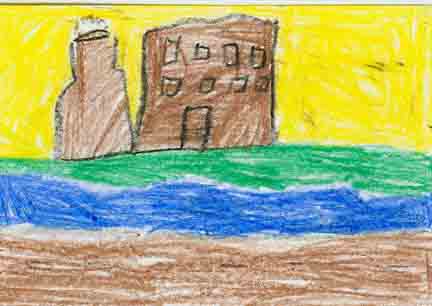 The first thing you need to know about this book is that three kids lose their parents in a fire and have to live with their closest living relative. The Reptile Room is the second book in a series. In the first book, the children live with their relative Count Olaf who treats the children very poorly. For example, he makes them chop wood, prepare all his meals, and they have to all sleep in one cramped room with one bed. In this book, they get a lucky break and are sent to live with their Uncle Monty.
My favorite part of the book was when one of the children named Sunny, gets bitten by the Incredibly Deadly Viper. Uncle Monty wanted the Herpetological Society to think it was deadly, but Uncle Monty knew that the snake was harmless. This book is different from other books that are about happy and glory times. This book is about sad and gloomy times. For example, their parents die, another relative dies, and another relatives treats them very badly. I also like this book because it keeps the reader interested in what is going to happen next.
I recommend this book for ages 7 and up because it has big words which the author will explain in the paragraph. It teaches the reader the meaning of lots of new words. I think that readers who like sad books with a twist will enjoy reading this book.