Holes
Written by Louis Sachar
Reviewed by IC (age 9)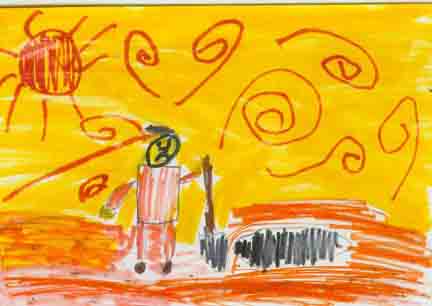 Holes is a very interesting story. It is about a boy named Stanley Yelnats who is under a curse. The curse seems to be that he is in the wrong place at the wrong time. He mets Zero, also known as Hector Zeroni, at Camp Green Lake. Stanley was sent there for stealing shoes that really fell from the sky. At Camp Green Lake the campers have to dig one hole a day in the hot sun. The hole has to be five feet wide and five feet deep. Stanley meets new friends, learns a little about himself and evens tries to escape from the camp.
I enjoyed reading this book. The story is realistic because even though it is a fiction book, it is still possible to get arrested. I found Holes to be thrilling. The description of the characters were vivid. I could really picture them. Through his words, Louis Sachar the author, told how Stanley felt about digging words. Throughout the story everything seems to connect and fits perfectly at the end.
I would recommend this book to every 4th and 5th grader because many kids that age have read it and liked it. I think they should read it. My 5th grade cousin told me about Holes and I'm glad he did. Holes is the best book I have read. I couldn't stop reading it. I enjoyed reading this book because it had an interesting topic. Stanley had to live through a curse. For Stanley, that just seems normal.