Holes
Written by Louis Sachar
Reviewed by VS (age 10)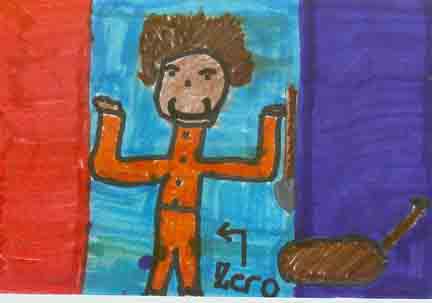 Stanley is a boy who gets sent to Camp Green Lake because he committed a crime. Stanley's family has been cursed for eternity and is always in the wrong place at the wrong time. For example, Stanley's tent in Camp Green Lake is "D-TENT". The boys in the camp have to dig one hole each day for punishment. Stanley makes a friend named Zero who runs away. Stanley looks for him for three days. When they return they have to dig one more hole and they found a... you'll find out when you read the book.
I like the book Holes because it is interesting. There a few characters that stand out. One of the characters that I found interesting was Zero. I liked how he tricked the counselors and campers to think that he didn't know anything. He was just very clever. Zero was the character most like me because I also like to dig holes. There are adventures that the main characters have while they are at Camp Green Lake.
I think students who like adventures would like this book because Stanley and Zero climb a mountain called "God's Thumb". The book is exciting because you never know what they are going to find when they dig a hole. When someone gets shot it is also scary.