Holes
Written by Louis Sachar
Reviewed by Rebekah P. (age 10) & Meghan S. (age 11)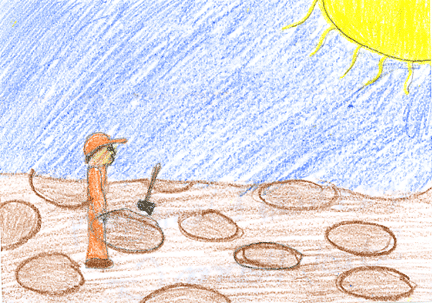 Thud! Laid out flat on the ground, Stanley Yelnats strained his neck to see what in the world had hit him. A pair of shoes lay next to him. He knew about the curse on his dad's side, but Stanley hoped that maybe it would skip a generation. He had no idea what kind of damage one pair of sneakers could cause. Those sneakers belonged to a famous athlete, and no one believes that Stanley didn't steal them. His options are jail or a detention center. Stanley chose the detention center, Camp Green Lake. There the boys dig holes to build character. Holes are dug all day, every day, exactly five feet wide and five feet deep. There's no lake at Camp Green Lake, but there are a whole lot of holes.
Stanley realizes that there is a lot more than building character going on at Camp Green Lake. The Warden is undoubtedly looking for something and that's the reason they're digging, not to "build character". What could there be under a dried up lake that the Warden wants so much? Stanley's on a mission to find out the truth.
We think that this book is for anyone who enjoys books with suspense, adventures, surprises, and likes to read fiction books. The book is not predicable, because the plot may be going in one direction, like maybe the main character will have bad luck, and then it may turn around so that he has good luck. Both of us really think this book deserves two thumbs up. We think this because the author did a great job describing characters, settings, and events. Rebekah: I think Louis Sachar made the events in this book very realistic because I could relate and pretty much understand how the characters felt at the different times. I even got angry at some of the things that happened at Camp Green Lake. Also, this book relates to reality because some of the people you meet won't be the nicest, or the luckiest, or the brightest, but they all are part of life. Meghan: I couldn't put the book down! It was like I went to a different world and forgot to get tickets to come back home. I loved this book! It has all the things a great book should have like suspense, creative characters, and realistic settings.
We recommend this book because of how exciting it is. You won't be able to put this book down until you read the last page and are finished with the book. It is a book for the ages of 9 to adult. The younger ages would enjoy it because the suspense would push them to read further. Also, the adventure throughout the book will interest the younger portion of readers. All ages will enjoy the fantasy and the justice that comes up in Holes.