Captain Underpants and the Perilous Plot of Professor Poopy Pants
Written by Dav Pilkey
Reviewed by RM (age 10)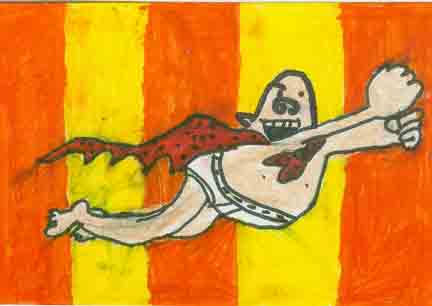 The story of Captain Underpants begins with two kids named George and Harold who have a mean principal named Mr. Krupp. Mr. Krupp was so mean to George and Harold that they bought a 3-D Hypno-ring. They used the ring to make Mr. Krupp into Captain Underpants. He is the one who George and Harold made up in their comic books. He is a superhero who is fighting Professor Poopypants. Captain Underpants meets many different characters along the story.
I like Captain Underpants because I thought it was funny. The pranks George and Harold pull on people are funny. Dav Pilkey, the author, makes me want to read it again and again. It also had a lot of action in the book because in each book he is fighting someone. This story reminds me of my life because we are always laughing and telling jokes. My favorite part of the story was when Professor Poopypants made everyone change their names. He was probably thinking if he had to have a funny name then everyone else did too.
I recommend this book for people who like comedy. It is not a difficult book to read. If you like fiction and comedy books then this one is for you. It might seem long but it isn't. I thought it was so good I wish I could be in it. The illustrations also provide good images for the reader, especially the "Flip-O-Rama".