The Amazing Days of Abby Hayes- Every Cloud Has a Silver Lining
Written by Anne Mazer
Reviewed by Morgan M (age 10)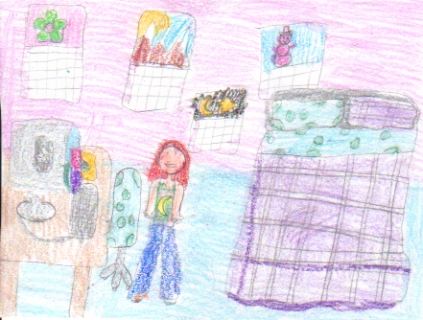 Abby Hayes is 10 years old and in 5th grade at Lancaster Elementary. She loves calendars. Her room is covered with calendars. She has a world cup soccer calendar, and a skateboarder's calendar, and many more. She has an old notebook that she uses as a journal. Abby wants to become a soccer star. She has a brother Alex who is a math and computer genius. She has older twin sisters, Eva and Isabel, who are good at everything. The first day of school was very exciting for Abby. Her teacher, Ms. Kentor, said that another teacher, Ms. Bunder, would be coming in every week for creative writing. Ms.Bunder came with a shoe box containing strips of newspaper headlines and told the class to write a poem or story from the newspaper headlines. She would read over them and if she liked them she would put them in the newspaper. On Friday evening after school their gym teacher, Mr.Stevens, had tryouts for the all-city soccer team. On weekends, Abby and Jessica practiced kicking and passing for soccer. Both Abby and Jessica made the soccer team. At a game Abby made the goals and kids cheered. Do you think Abby will become a superstar and her story will be in the newspaper? If you want to find out, read the book "The Amazing Days of Abby Hayes Every Cloud Has a Silver Lining."
I like this book because Abby keeps on doing every little thing she can do to become a soccer star. One of my favorite parts is when Abby made all the goals at a soccer game, and she was proud of herself. I also liked how creative she could be when writing poems, and when Ms. Bunder came in and let them write stories and poems. My favorite part is the end, but I can't tell you that or it would give away the story.
I recommend this book to all ages, because this book tells you that if you have something in mind to keep trying and maybe you will achieve it. Parents can read this book to any kids who can't read it themselves. If you like this book, check out some more books by Anna Mazer.