Shiloh
Written by Phyllis Reynolds Naylor
Reviewed by Michele R (age 10)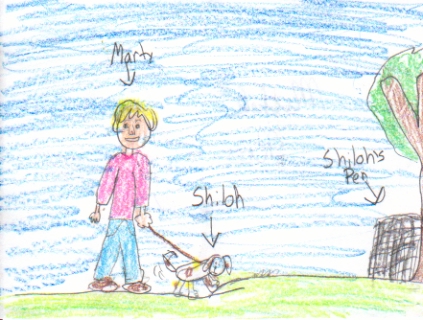 Marty finds a stray beagle on the side of the road by the old Shiloh schoolhouse. Marty calls the beagle but it does not come. He whistles and the beagle comes running. The beagle follows him home. Marty decides to call the dog Shiloh because he found it by the old Shiloh schoolhouse. His mom and dad say he can't keep the dog. He has to give it back. His dad says that Judd Travers got a new dog and maybe the dog is his. Marty brings the dog to Judd's trailer. When they get there, Shiloh shivers all over. Judd comes out of his trailer and looks at Shiloh. He says it's his dog. He opens up the door of the pick-up and tells Shiloh to get out of there. Shiloh jumps out and runs behind the trailer with his tail between his legs. In a short time Shiloh comes back to Marty. Marty knows Shiloh was being beaten. This time Judd's not going to get him back. Marty makes a pen for Shiloh around a tree. He feeds Shiloh part of his meals. One night he lets Shiloh out for a run because he's been cooped up all day. His mom finds out about Shiloh. He says "Mom please don't tell Dad about Shiloh. You know he'll make me give him back to Judd." His Mom agrees not to tell Marty's dad. That night it was hard for him to sleep. Then he hears little yelps--then yelps that sounded like Shiloh is being torn in two. He runs up to Shiloh's pen. He can't believe what he saw. To find out what happen and what he saw, read Shiloh.
I like this book because it reminds me of my dog, Molly. We adopted Molly from the pound and Marty found Shiloh by the side of the road. One of my favorite parts is when Marty makes a deal with Judd to buy Shiloh. Judd changes a little at the end. Marty and Judd found a way to get along. There are no illustrations but the story paints pictures in your mind.
I recommend this book to people who like dog stories. This is a book for all ages. I felt very sad the way Judd was treating Shiloh. Can you picture your pet being starved, kicked, and yelled at? I can't. If you like this book a lot, there are two more books to this series. The books are Shiloh Season and Saving Shiloh. I hope you like this book as much as I did.