Long Arm Quarterback
Written by Matt Christopher
Illustrated by Matt Christopher
Reviewed by Robert H (age 10)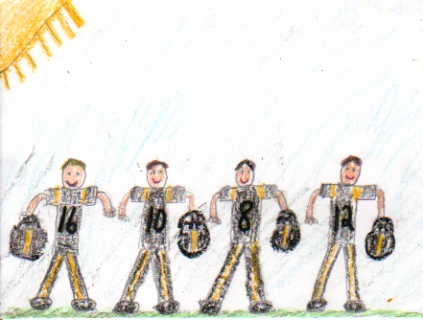 Cap Wadell is a boy who loves to play football and wants to play real football. His Grandpa Tully tells him about a six man team. Tully played for the Cowpen Panthers.
Tully calls the school principal and asks if the school could make a football team. The principal said it was a great idea. Tully called other schools to ask if they wanted to make teams too. They said yes and they set up times to play. Tully picked the positions at their first practice. Cap and a boy named Jimmy were the quarterbacks. Cap liked long passes and Jimmy liked short passes.
They won their first game. Then they played the Sandville team. They were losing by two touchdowns. When the Panther's scored a touch down there were twenty seconds left. Sandville had the ball and they fumbled it. The Panther's recovered it. Cap passed the football, but it was incomplete. Now they had to kick for the goal. Hoot, their kicker, never kicked from that far away . To see if they win read Long-Arm Quarterback.
This book is always exciting. I like it because I don't know what is going to happen next. My favorite part is when they win their first game. Sable Cash, Jimmy's grandfather, was always mean to Tully because he didn't use Jimmy as quarterback as much as Cap. Sable changed his thinking because he knew that Jimmy couldn't be the best. This is like other books the author wrote because they show the value of friendship. This book reminds me about my neighbors and me and how we love to play football.
I recommend this book for kids who love football or any sport. You can't put this book down until you get done with it because it is so exciting. If you read this book, you will understand why I like it so much. I love all of Matt Christopher's books because he writes about sports. I like reading about how people become good at sports.