Wings on Things
Written by Marc Brown
Reviewed by Felicity T. (age 4) & Luna H. (age 7)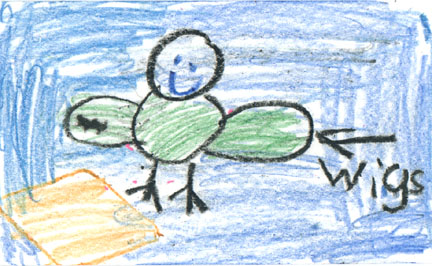 The book is about wings. Some wings go high and some wings go low and some wings can go fast and some go slow. The red wings were on the plane and the blue wings were on the glider. Wings can come in pairs. There are butterflies in the book and they are twins. There was a dragon and the dragon is green. There are wings on bees and you can?t touch them because they sting. Airplanes have wings. Bats have black wings and they fly in the dark. Bats are scary.
Felicity liked the book because it?s funny. Luna liked it because it was there were beautiful pictures. Luna says that the boy in the book makes her think about her cousin because she always makes a funny face. Luna likes rhyming because if her friends tell her a word then she can say a rhyme back to them.
Luna thinks that Monica might like the book because she will like the pictures and the words. The pictures are colorful. Felicity thinks that her friend Erin might like the book because the book is beautiful. Erin likes pictures.