There's an Alligator Under My Bed
Written by Mercer Mayer
Illustrated by Mercer Mayer
Reviewed by Monica L. (age 10)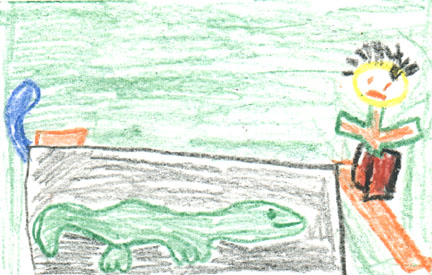 There is a boy who has an alligator under his bed. The alligator was scaring the little boy so he went straight to the refrigerator. Then the boy got the food and started putting it in the stairs. Then the alligator started to eat all the food and then the alligator went straight to the garage. Then the boy came down the stairs and locked the door. Then the boy started to put signs on the garage door. The signs said, "Dear dad there is an alligator in the garage."
I liked it because the book was about a little boy who was scared. My favorite part is when the boy was scared of the alligator. Once I went to my cousin?s house and we were playing hide and go seek with the lights off. So I was under the bed, and I scared my cousins. They both said, "Mom there?s a monster under our bed!"
You should read this book because it?s great to read. My family should read this book because it?s scary. My friend Emily should read this book because it's about a boy who is scared, and she likes scary things.