Get That Girl Out of The Boy's Locker Room!
Written by Elaine Moore
Reviewed by Maddisen V (age 10)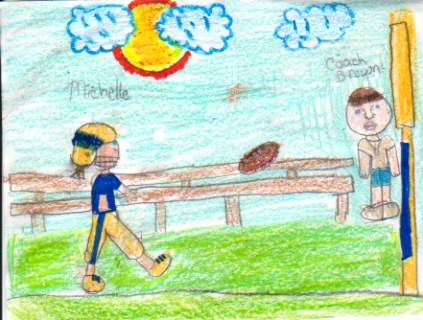 At the park one day Michelle was working out with her friends, when all of the sudden a football came flying over.It was her brother, Brian's. He yelled to her to kick it over. After she did she heard a big cheer. It was her brother and his friends. Then her friend, Matt, came over and told her she kicked it through the uprights. Then he told her they have a football team and she should be their kicker. Last year Michelle showed the boys she could play basketball. This year she's going to show them she can play football, but not as herself. Coach Brown doesn't like girls that play boys' sports. He won't let girls try out for his team no matter how good they are. Then one day Michelle tried out for the team as Mitch and made it. Now all she needed to do was to keep the team from finding out that she was a girl. One day they had a game. In the play they do, the other team got the ball. None of the team saw the player but Michelle. He was running for a touch down. Michelle tackled him. Her helmet flew off. What did she do? What did the coach do to her? To find out, read Get That Girl Out of the Boys Locker Room.
My opinion is that this story is wonderful. I like this story because it is funny, full of excitement, and is just a really good story. I especially like it when Michelle finds out Jocko Joey likes her. She then has to pretend she is Matt's girlfriend. I think the best part is when they beat the Barracudas, a really tough team in the league. Another reason I like this story is because you never know what will happen next. For example, Jocko Joey was talking to Michelle and was paying no attention to where her hand was and he stepped on it.
I recommend this book to anyone, especially girls, who think a girl can play football. The reason for that is because some people say girls can't play football. This girl did. That inspired me to keep working at my dreams no matter how tough it gets. I hope anyone who reads this book gets the same feeling.People who love a good story would like this book too. Kids, ten and up, might like this story like I did.