Sideways Stories from Wayside School
Written by Louis Sachar
Illustrated by Julie Brinklo
Reviewed by Cassandra W (age 10)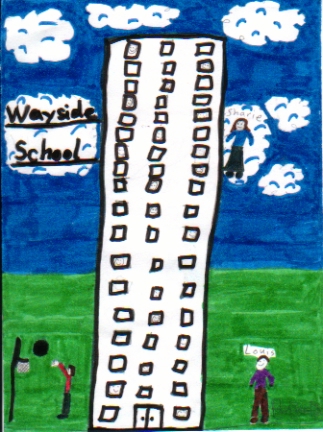 Wayside School was built sideways! It was supposed to be 1 floor and 30 rooms in a row. Instead it was accidentally built with 30 floors and 1 room on each floor. Sideways Stories From Wayside School will tell you 30 stories. They will be about 30 people from Wayside School. These people are all from the 30th floor except 1 person. That 1 person is Louis. He's the yard teacher at Wayside. In this book you'll hear about Fatso, Crabapple, Butterfingers, Big Mouth Jason, Kathy who hates everybody even you, Stinky Sammy, and much more! You wouldn't want to be a student on the 30th floor of Wayside! If you were, Mrs. Gorf would wiggle her ears, first her right ear, then her left ear, next she would stick out her tongue at you and you would turn into an apple! Part way through the school year, Mrs. Gorf retired. Mrs. Jewels is the new teacher and thinks the students are too cute to be kids, so they must be monkeys! She's wrong of course! Jason got stuck to his chair until a girl kissed him on the nose. Tons and tons of crazy things happen at this school! Do you know what else? The people at this school think we (regular humans with a school that's upside-right) are the weird ones! If you want to read lots of crazy things, read Sideways Stories From Wayside School!
My opinion for Sideways Stories From Wayside School is that it's hilarious! It's so funny because Sharie falls out a window, Big Mouth Jason gets stuck to his chair, and much more! I have a few favorite parts. One of them is when Sharie falls out the window when she's sleeping and Louis runs all the way across the playground and catches her! When he catches her, she wakes up and gets mad at him for waking her up! Another one of my favorite parts is when Calvin has to run up and down, up and down, up and down the 30 flights of stairs to get questions and answers from Louis and Mrs. Jewels!
I recommend this book to all ages. Unlike most other chapter books, it's so easy to understand. Even little kids would understand it! If you love to read about wacky things, this is the book for you! If you read this book, I just know you'll love it!