Stanley, Flat Again!
Written by Jeff Brown
Illustrated by Scott Nash
Reviewed by Monica C. (age 8), Wendy L (age 7)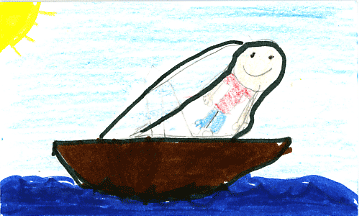 Stanley Lambchop bumped into a bookshelf and became flat again. This time the pump didn?t work. Dr. Dan couldn?t help him. Stanley used being flat to help a friend win a sailboat race. When a building fell on one of the girls in Stanley?s class, Stanley was called to help rescue her.
My favorite characteris Stanley Lambchop. I like Stanley because he gets to do things normal people can?t do. I think it would be fun to be flat. His brother Arthur gets jealous because Stanley got his picture in the paper, just for being flat. Only one person was mean to Stanley. That was Emma Weeks. She called him a ?show-off.?
My favorite part of the book was when the newspaper said ?Rude Girl Saved!? Stanley recued Emma from a building that fell on her. Even when Stanley was trying to save Emma she was mean to him. I am glad the paper called her mean.
The illustrations help tell the story of Stanley. Sometimes it is hard to imagine things he does, like when he was a sail. The pictures clarify that. I like this book a lot and can?t wait to read the other Stanley books. His life is interesting.
I recommend this book to anyone who likes to read adventures and fiction.