The Mixed-Up Chameleon
Written by Eric Carle
Illustrated by Eric Carle
Reviewed by Eloy C. (age 9)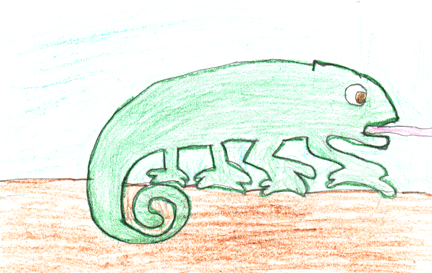 This book about a chameleon that lands on everything and it changes its colors. It lands on the flowers and it changes to red. Then it gets on a tree and it turns brown. It turns yellow when it is on the yellow sand. The chameleon was sad because he didn't think he was special. The next day the chameleon saw a zoo. He saw animals. He wished he could be like all the animals and his wishes came true. He saw an elephant and a seal and wished to be like them. After a while, he had some of the parts of all of the animals. He was funny looking. At one point he gets hungry. What happened to the chameleon? You have to read the book to find out.
The part that l like the most is when the chameleon is mixed-up. He looks cool with the turtle shell and funny with the elephant head. The illustrations are bright like the colors of construction paper. I liked this book because it was a great story about a chameleon and his wishes.
I think that you should read this book because it is very interesting. The pictures are funny looking and they make you laugh.