Larry Bird
Written by Sean Dolan
Reviewed by Korey W. (age 11)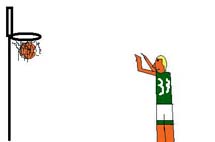 This book is about Larry Bird?s life. It tells how Larry Bird became a star. This book also gives tips to become a better basketball player. Sean Dolan did a remarkable job getting information on Larry Bird. Dolan wrote about Larry?s social life and his life out in public. Did you know that Larry Bird got in a fight a broke his middle finger and couldn?t play basketball for a couple games? Sean Dolan wrote many more books on famous basketball stars such as Abdul-Jabbar, Charles Barkley, Wilt Chamberlain, Julius Erving, Michael Jordan and many more.
This book also has many pictures of Larry Bird. I thought the pictures were phenomenal. It showed Bird as a kid, shooting a basket making a save and a couple more. This book also reminded me of when I was playing a basketball game against South Glens Falls and are team was down like fifteen points and we came back and won. This reminded me of Larry Bird because his team was down a couple points in a game and his team came back and won.
If you want to read a unique biography read Larry Bird by Sean Dolan.