Danger at the Wild West Show
Written by Alison Hart
Reviewed by Rachel A. (age 12)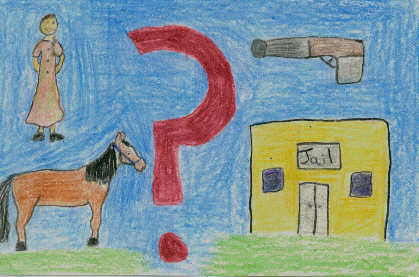 Danger at the Wild West Show is a mystery taking place in Louisville, Kentucky, at a wild west show. Rose Talor, a twelve-year-old girl, helps her brother, Zane, with his shooting act, but then things get wild when during a show someone is shot and her brother is arrested! Everyone knows he's innocent, but who could it be? Rose and her friend Oliver set out to try and find the real shooter to free Zane from jail. Will they free him? You'll have to read the book to find out!
I really liked this book because of how well the author describes the story. I felt like I was in the story! There was always something just around the corner, and I couldn't figure out the mystery until the very end. I also thought this story was great because I like history, and this story takes place in 1886.
I would recommend this book for ages 8 and up because some of the words are hard to understand. If you love mysteries like I do, then you should definitely read this book. It was thrilling from the first page to the last. I loved it so much, I could not stop reading it until I was finished!