Horrible Harry and the Purple People
Written by Suzy Kline
Illustrated by Frank Remkiewicz
Reviewed by Selina V. (age 9)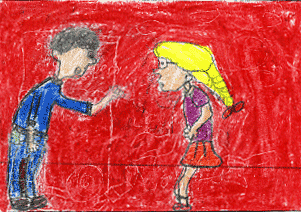 Are you the type of person who imagines a lot? This book is for you. Harry has a lot of imagination and he is the only one who could see Purple People in the classroom. No one believes Harry until strange and unexplainable things start happening in Room 2B. Is this for real?
I like this book because it reminds me of the time when I play tricks on my big sister. I am reading Horrible Harry series and this is one of the series that I enjoy the most. I like the author's style in writing each chapter. She wrote the title on each chapter that kept me excited to read more. The leads and endings were interesting. The chapter titles also helped me predict what will be the next event. I also wonder if the purple people could be real or not.
I recommend this book to all boys and girls of my age because they can surely connect to Harry's great imagination.