Strega Nona's Magic Lessons
Written by Tomie dePaola
Illustrated by Tomie dePaola
Reviewed by Delis C. (age 9)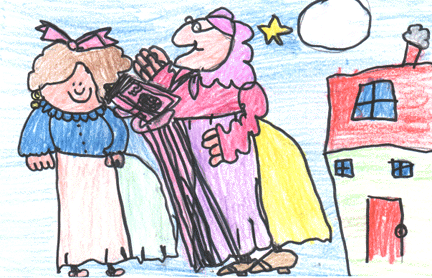 Do you like magic? Well this story is about magic. This story is about a girl named Bambolina .She worked on a bakery and she had a lot of problems. So she went to Strega Nona (grandma witch) to learn magic. Then Big Anthony got jealous because he wanted to learn magic too. So he dressed up like a girl and tricked Strega Nona and Bambolina. Bambolina learned magic fast, but Big Anthony, who changed his name to Antonia didn't learn magic fast. So he took Strega Nona's book of learning magic and at night he didn't sleep. He just tried to learn that book by memory. When he was showing Strega Nona that he knows magic he did a mistake. Find out what's the mistake by reading the book and also find out if Strega Nona likes that mistake.
I think this story is very funny because it has a lot of parts where people do funny things. My favorite part was when Big Anthony dressed up like a girl because I didn't think that he would be so crazy to dress up like a girl. I liked it because it shows you not to always get jealous. My favorite character is Strega Nona because she is very smart. I think the illustrations are excellent. I also like how the colors look. To me, Strega Nona is very special because of her kindness. This book is not like any other book to me. I felt funny and happy when I read this book because it makes you laugh.
I recommend this book to people who like magic and to people who like interesting books! I also think that people who like Strega Nona stories would enjoy this book!