Some Frog
Written by Eve Bunting
Reviewed by Hammed A. (age 8)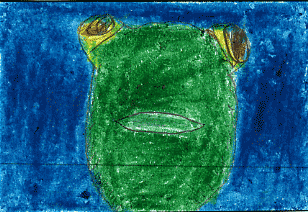 This is about Billy who waits for his dad to come. He promised that he will catch frog with him for class frog competition. Billy has a nice mom, smart grandfather and a sweet grandma. He is still waiting for his Dad. Is he going to come? Find out and experience Eve Bunting's story of hope.
This book reminds me of when my dad left me for a short time. But he came back. It also reminds me of the " Summer Wheels" because the boy there too does not have a dad. I like the part when the frog jumped high. It was amazing. I was surprised to find out how far the distance it had made compared to other frogs. I also like the way his grandparents and his mom cheered him up. They made his day special without the dad.
I recommend this book to all ages . There is also a lot of feelings in this book-- sadness, loneliness and happiness.It is about caring and loving for family members. The kids who also love frogs will enjoy this book.