My Rotten Redheaded Older Brother
Written by Patricia Polacco
Illustrated by Patricia Polacco
Reviewed by Prince D. (age 8)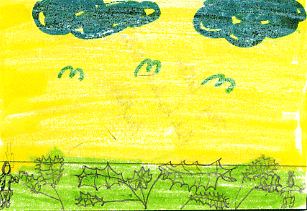 This book is about a brother and a sister who always compete with each other. Tricia cannot stand her rotten redheaded older brother Richie, who can do everything better than she can. Tricia's grandmother tells her that a wish can come true when made on a shooting star. She knows what to wish for. She wished that she can do something and anything better than Richie. Read this book and find out if her wish came true.
This book reminds me of my brother who beats me in every way but not in "Halo". It is a computer game. My brother helps me to be like him so that we can be equal all the time. My teacher read this book to give us an idea in making a title for our writer's workshop story titles. I reread it because I was interested with the title. It was long and sounds funny. The title really fits the story.
I recommend this to anybody who has a brother or a sister. They will learn a lesson how to treat the brothers and sisters fairly.