Memory String
Written by Eve Bunting
Illustrated by Ted Rand
Reviewed by Marilyn A. (age 9)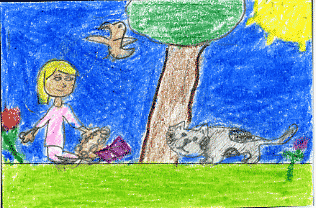 This book is one of Eve Bunting's stories about family. A girl did not like her stepmom. When her memory string broke, she was missing one button. She heard her dad saying he will replace it. But the stepmom said it is not good to deceive his daughter. She also added that the button is not replaceable. "Just like mom, there is no substitute". Her dad and stepmom looked for it. The stepmom found the button but she did not want to give it herself. The stepmom wanted it to be like a magic. They left the button on the porch. The next morning, Jane found the button. She had a change of heart. She wanted her stepmom's button be included in her memory string.
I like this book because I could connect my mom's feelings when she had her stepmom. This book makes me wonder how my stepgrandmother felt when she joined my mom's family. I also like the way Eve Bunting changed the character of the girl towards her stepmother. It teaches a lesson that you should not judge a person because she is your stepmom.
I think kids who have stepmothers or stepfathers should read this book. They will learn something from the girl in the story. We should give the stepmoms and stepdads a chance to know them better.