Horrible Harry Moves Up to Third Grade
Written by Suzy Kline
Illustrated by Frank Remkiewicz
Reviewed by Jerald P. (age 8)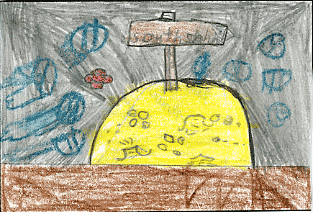 When Harry and Sidney moved up to third grade, they are still worse enemies until one field trip day. Third grade brings them a lot of surprises. Sidney and Harry's relationship only gets worse when Sidney accidentally kills Harry's pet spider. Harry comes up with a horrible and funny way to get revenge. Read this book and find it out how the revenge ended.
This book reminds me of my first day in school. I couldn't find where my classroom was. I thought I got lost until I saw my former classmates in second grade. This book also reminds me of our field trips. I follow what my teacher says -- " Stay with your group. Ask permission if you want to go to the restroom." Unlike in this story, Sidney did not follow the teacher. I did not like what she did. She might get in trouble. I also like when Sidney and Harry started to become good friends.
I recommend this book to second graders and third graders. Discover the fun and adventures in third grade days! If you like to play tricks, you will enjoy this book.