Sam Samurai
Written by Jon Scieszka
Reviewed by Victor A. (age 8)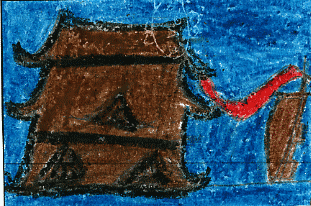 Sam, Fred and Joe take a little break from doing their homewrok. They land in the middle of seventeenth-century Japan. They have to find out "The Book" and find their way back home after dealing with samurai warriors with really big swords.
I started reading Time Warp Trio series and this is one of my favorites. I like this book because it has samurai warriors. I got interested when they bumped into the samurai warriors. It is adventurous. I also learned some Japanese words like sushi (raw fish on rice), sashi (chopsticks), and tako (octopus).
This is a book for boys to read. If you are into Karate like I do, you will like this book.