Clyde Monster
Written by Robert Crowe
Illustrated by Kay Chorao
Reviewed by Ariel P. (age 8)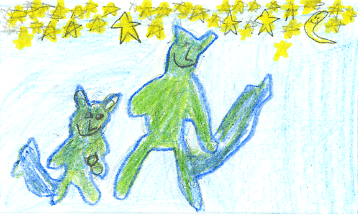 This is a fantasy about a little monster who is afraid of the dark because he is afraid there are people hiding in his room. His parents help him try to get over being scared.
Any child who is afraid of monsters or afraid of the dark will love Clyde Monster. It made me think that if there were monsters, they might be afraid of me. My favorite part is when he imagines people hiding behind the curtains, behind chairs and under his bed. He is afraid they will take him.
The illustrations show Clyde being happy when he is outside. He breathes fire across a lake and even has a monster doll. They also show him being scared. He is cute for a monster.
I think Clyde changed in the end. I have never read a book like this before and that is why I like it.
I recommend this book to anyone who has ever been afraid of monsters!