Sheila Rae, The Brave
Written by Kevin Henkes
Illustrated by Kevin Henkes
Reviewed by Daniel F. (age 9)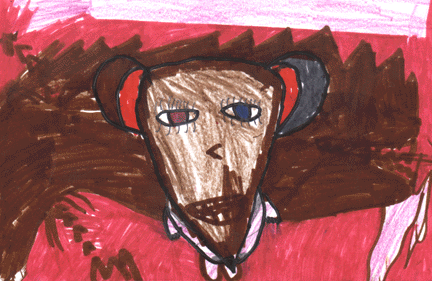 This story is about a mouse named Sheila Rae. She believed that she was brave and not afraid of anything. She was not afraid of the big black dog across the street. She was not afraid of spiders and she tied a class bully to the fence. She thought the cherries in her fruit cocktail were the eyes of dead bears, and she ate five of them. One day when she was coming home from school she wanted to take the long way home, so she did and got lost. But her baby sister, Louise was following her. Do they find their way home? Read this book to find out if Sheila Rae and her sister Louise Rae find their way home.
My favorite part was when Sheila Rae stood up on her bicycle with her eyes closed. This is because her friends, the other mice thought she couldn't do it and she did. It was exciting to see her to do something other mice can't do. This book is just like the story, "Peter Pan." Peter Pan was brave in the story and he saved the children. My favorite character was Louise, Sheila Rae's little sister, because she kept following Sheila Rae, when she was trying to take the long way home. She admired Sheila Rae for her bravery and when she thought there was a monster in the closet, Sheila Rae attacked it.
I recommend this book because it is fun. Sheila Rae takes the long way home and gets scared in the woods. Brave people, like Rocky Balboa, or Peter Pan, would enjoy this book because they are brave, just like Sheila Rae, but sometimes they are not so brave.