Baseball Saved Us
Written by Ken Mochizuki
Illustrated by Dom Lee
Reviewed by Ronald H. (age 9)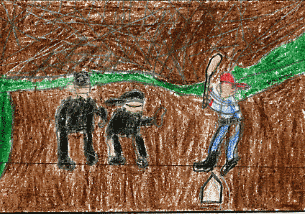 This book is told by a boy in the story. His family was forced go to a military camp when America was at war with Japan. When they got into the camp, it was really dirty and messy. They felt awful and miserable.After a few days, they built a baseball field.Mothers made uniforms out of matresses. They made their teams and the kids played the adults.The boy didn't know how to play baseball. Read the book and find out if he made a home run.
I like this book because I like the illustrator's style. He made it look like old pictures. He used dark colors. Each page has illustrations that helped me better understand the characters' feelings. This book reminds me of my dad and I playing baseball. My dad is like the father in the story who teaches a son how to play baseball. He also teaches his son the moves how to get a home run.
I recommend this book to all the kids who love to play baseball. It will surely inspire them to make a home run!