The Knight at Dawn
Written by Mary Pope Osborn
Reviewed by Michael M. (age 9) & Michael M. (age 9)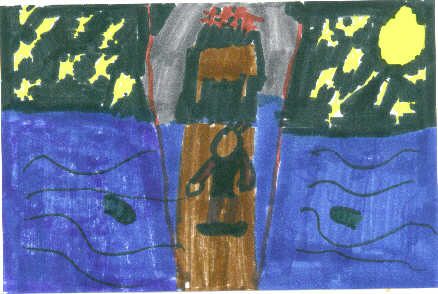 Have you ever wanted to see a castle? Well, then this book is for you. It is about two kids who go on an adventure to a castle.They discover a black knight that roams around the castle at night. Jack and Annie aren't exactly welcomed guests. When they go through the hall guards catch them and they are put in a cell.
I like this book because it is a fun and adventurous book, especially when they are trying to escape and Jack slips. My favorite part is when Jack tries on a helmet. It was too heavy for him and he falls and knocks down all the armor. That is just like my little brother. He knocks down my stuff all the time.
The character of Jack reminds me of a classmate because Jack likes to try new things and is curious. My classmate is just like that when he wants to go into the woods and investigate things around him.
I recommend this book for third through sixth grades because it has some hard words in it. I think a reader who likes fun and exciting books would like to read it.