The Thief Lord
Written by Cornelia Funke
Reviewed by student in Ms. Shuff's 6th Grade Class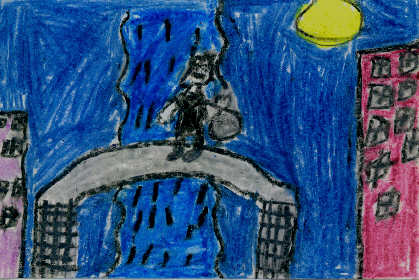 The Thief Lord is a very adventurous and magical book. It's about two boys, Prosper and Bo, who run away to Venice, Italy because their aunt and uncle want to separate them. While they're running with a girl, Hornet, they meet a mysterous 13 year-old boy who calls himself the Thief Lord, who's real name is Scipio. He leads a gang of street children, Riccio and Mosca, who live in an abandoned movie theater, and they steal things for survival. Meanwhile, Prosper and Bo's aunt and uncle hire a detective, who's name is Victor, to find the kids. To know the Thief Lord's secret, to find out if Victor will find the kids, and to find out about a mysterous merry-go-round, you'll have to read The Thief Lord.
I think the Thief Lord is a very good book because it has adventure and magic and a little bit of fighting. I also like it because it has very nice characters. My favorite is Mosca; he is like their boat man. The final thing why I like it is because I like what happens to Scipio at the end.
I think this is a good book for grades 6 and up. This book has adventure and magic a little bit of fighting. This was a very good book when I read it. I want to read it again and again and again.