Holes
Written by Louis Sachar
Reviewed by Jill H. (age 11)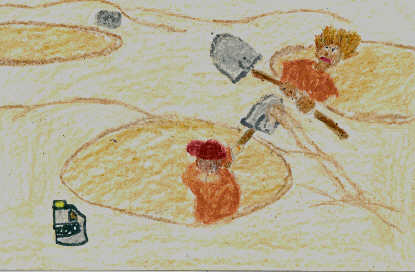 This book is about a boy named Stanley Yelnats, who messes up his life, and is sent to Camp Green Lake to build character. Camp Green Lake turns out to be a detention center in the middle of a dried up lake. Stanley makes a good friend at camp named Zero. His real name is Hector, but everyone has a nickname at camp. You'll find out what they all mean in the book. Everyday they have to dig a hole that is 5ft. wide and 5ft. deep. Stanley struggles to get used to digging such large holes. One day Stanley finds something in his hole that will change his life forever. Well, I'm not going to tell you what it is, so you'll have to read the book and find out.
I loved reading Holes. It was full of adventure and that's good because I like adventure. It took me a while to understand it, but I could fully imagine it after a while. It gave me a bigger imagination. I could even imagine I was really there. I loved finding out what all of the characters nicknames were. My favorite character was "Twitch" because he always acted nervous and couldn't sit still. I wouldn't have liked to dig holes in the hot sun, but reading about other people digging holes is fine with me.
I would totally recommend this book. It's a great funny-mystery for fifth and sixth graders because you really have to pay attention to the plot. This is a great book for you if you like funny-mysteries with cool endings. It is also a good book for anyone who likes bad people turning truthful again.