Stanley and the Magic Lamp
Written by Jeff Brown
Illustrated by Scott Nash
Reviewed by Francisco M. (age 8)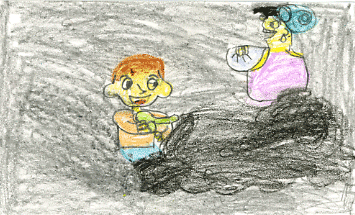 This is a fictional story about Stanley Lambchop. No longer flat, Stanley has another strange adventure. He found a magic lamp and when he rubbed it a genie appeared and offered him some wishes. The wishes Stanley and his family made changed their lives.
This book is fun because some of the wishes Stanley and his family made are wishes I might have wanted to make. Stanley?s mom wanted to be famous. I thought that would be fun until I read what happened to her. People followed her everywhere. When Stanley?s brother Arthur wished to be strong, he could easily move objects like desks. Wait until you see the animal Stanley wished for! It was half lion and half elephant. There is a picture of it in the book.
The illustrations were the only things I did not like because they were in black and white and I would have liked color pictures.
I recommend this book to all readers. I could hardly put it down because I wanted to read what happened next. This book reminds the readers to be careful what they wish for, because they just might get it!