Me and My Cat?
Written by Satoshi Kitamura
Illustrated by Satoshi Kitamura
Reviewed by Luis G. (age 7) & Jacknels T. (age 9)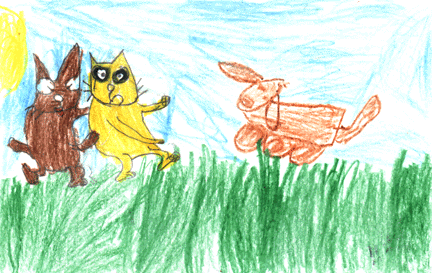 The story is about a little kid named Nicholas and his cat named Leonardo. They live together and switch brains. Nicholas realizes he is a cat when he is eating from his cat's food and when he looked in the mirror at himself. When he makes a huge mess in the house his mother kicks him out of the house because she thinks he is really a cat! Then the action begins. The dogs were going to bite the cat, who was really the boy, Nicholas.
I (Luis) liked the story because it is a very good and funny story. The part I (Luis) liked the most was when Nicholas and the cat switched places and the dogs were chasing Nicholas because they thought that he was a cat. The story reminded me of my cat, John. My cat John messes up the house just like the cat in the story. My mom throws John out of the house. My (Jacknels) favorite part is when the cat fell on the floor because it is funny when the cat fell and it started wriggling funny. This book reminds me of my cat too. My cat's name is Cynthia and the book reminds me of her because she jumps on the shelves and all the books start falling off.
We recommend this book to people who like cats and other animals, because it can happen to other animals too! I (Luis) think people who own pets would enjoy this book and if they don't have pets they could read this story too because they might have had a pet before. Other people like adults and old people might enjoy this book too because they might love pets. They would love this story and tell it to their grandchildren and they would love the story too.