Pokemon-Pikachu's Vacation
Written by Tracy West (adapted by)
Reviewed by Kevin L. (age 9)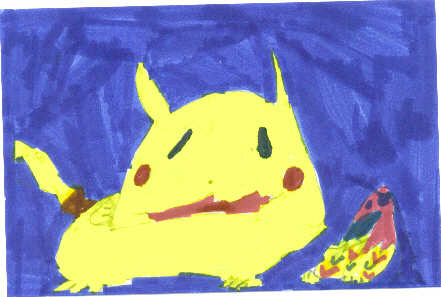 If you have ever had a friend that acted in a way you didn't like then you might like this book. It is about lots of Pokemon who are not friends. Then one Pokemon finds lots of friends by making them help him save another Pokemon and build a playground.
I think this is a great book because it is about friendship. My favorite part is when they all become friends again. It reminds me of when I did not have any friends, then I got some. I like this book because it teaches you how your enemies can become your friends.
There is one character that reminds me of some of my friends. They are always there for me like Pichachu was always there for Togapie. If I'm not feeling well my friends come to me and ask if there is anything they can do. If I get hurt on the playground they make sure I get help from the nurse.
There are pictures from the movie in the book. I think this helps when you are reading the book to better know what is happening. I always like it when there are pictures and since I saw the movie first, I knew what to expect in the book.
I recommend this book for third through fifth grades and especially if you're having trouble with some of your friends.