Forest
Written by Janet Taylor Lisle
Reviewed by Melissa St. P. (age 10)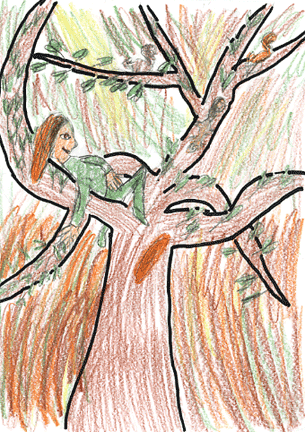 I wonder... Twelve-year-old Amber Padgett believes squirrels are intelligent. Believe it or not, in this story they are! At the same time, way up in the trees, a young squirrel named Woodbine thinks the same thing. But then... Bang! Bang! Gunshots ring out through the trees. Many squirrels fall to the ground. Amber gives small funerals for all the squirrels that have been killed. Amber is the reason that Woodbine thinks humans can be good. But, as the story continues, Brown Nut, Woodbine's sister, gets squirrel-napped! Many more killings happen and the squirrels have had enough! It is WAR! Will Amber and Woodbine overcome the war and make peace? Or will both species suffer?
Forest is an enchanting book. When I read the first chapter it was a bit dull. Yet as I continued into the book I became absorbed. Forest can get a bit confusing when the story switches from Woodbine's opinion to Amber's. My favorite part of Forest is when Woodbine and Brown Nut escape from squirrel jail. Then they convince the squirrel elders to help them make peace. Forest is unlike any book that I have ever read because the squirrels have a council and an army. That is why Forest is such a unique book.
I recommend Forest to children ages 9 and up. Forest is a fairly large book and is a little challenging to read.